Baffinland sponsored lunch program at Nasivvik High School in Pond Inlet
May 23, 2014
Starting in March, 2014, Baffinland is sponsoring a lunch program at Nasivvik High School in Pond Inlet, the closest community to Baffinland's Port Site at Milne Inlet. The company made the decision to offer free lunches to students who were going without food, in recognition of the important link between a healthy diet and education.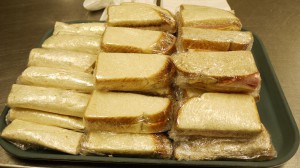 Baffinland's pilot lunch program at Nasivvik High School in Pond Inlet came about when senior management learned from the school's principals, Rachel Binns and Meeka Qamaniq, that some of the youth were coming to school hungry and without lunches. Food insecurity is a big issue on Baffin Island and across Nunavut and Baffinland wanted to make a difference in this community.
It is vitally important for students to eat a healthy diet if they are to do well at school. The nutritious lunches, home made by Sipporah Awa (pictured here) who works full time for Inns North in the kitchen, are delivered in a brown bag and contain a hot soup from scratch and a sandwich on fresh bread. There is always an extra snack added, such as carrot sticks or fruit etc to ensure the meal is balanced.
Additional benefits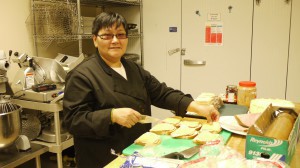 There are more benefits that flow out to the community other than the obvious full stomachs. Sipporah only worked part time until the lunch program came along; the extra money allowed Inns North to take her on full time. And the hotel is owned and supplied by the Pond Inlet Co-op, so there are benefits to the entire community.
The most important benefit though, is that the students get enough to eat and that they eat good quality healthy food. Everyone deserves to be fed, even if their families cannot afford it.
"We are very appreciative to Baffinland for providing lunch to our Nasivvik High students," says the school's principal, Meeka Qamaniq. "The lunch program is very successful."