Nunavut Quest Dog Sled Race 2014
May 7, 2014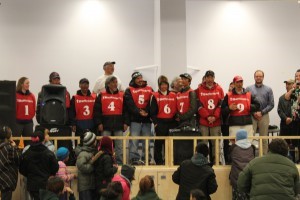 This year's Nunavut Quest Dog Sled Race, which began in Igloolik on Baffin Island on April 23, has been proudly sponsored in part by Baffinland Iron Mines. Nine teams entered this year in the marathon event, which honors this unique and traditional method of travel, racing a distance of 395 kilometers from Igloolik to Pond Inlet. Of special interest to Baffinland is that part of this year's route crossed the road between Milne Inlet and Mary River.
On April 23, 2014, a Nunavut Quest Snowmobile Support Caravan left Igloolik, the starting point of the annual Nunavut Quest Dog Sled Race, one hour in advance of the mushers. Dog teams (consisting of no less than ten and no more than twelve dogs) normally leave one minute apart. The snowmobile support teams set up camp each night in advance of the teams' arrival and prepared food for the dogs and mushers. This year's participants (along with a large contingent of volunteers and support crews) were: 1. Maren Vesutla of Igloolik 2. Moses Oyukuluk of Arctic Bay 3. Panoele Okango of Pond Inlet 4. Peter Siakuluk of Hall Beach 5. Joey Aqiaruq of Igloolik 6. Michael Inuarak of Pond Inlet 7. Isaac Irngaut of Igloolik 8. Lee Inuarak of Pond Inlet 9. Andy Attagutaalukuttuk of Igloolik.
In the Interests of Safety
A musher from Arctic Bay, Moses Oyukuluk, carried both a satellite phone and a High Frequency radio on the trip. Lee Inuarak, a musher from Pond Inlet also carried a satellite phone. The group kept in touch with the Nunavut Quest contact person, Igah Atagootak, in Pond Inlet and Baffinland's Northern Affairs Manager, Joe Tiqullaraq, received updates from her on a daily basis during the course of the race.
More than a race
Nunavut Quest is a massive undertaking in high Arctic conditions. "Nunavut Quest is more than a race – it is partly a healing process for participants and supporters," says Joe. "The trip gives the different generations an opportunity to interact with one another and revisit a bit of the traditional way of life. It reminds us of how important Inuit values and principles were passed from older generations to youth before Inuit families moved to today's municipalities. It is also a chance for the participants to experience the connection between different generations, the land and their dogs."
A huge amount of team work and community effort goes into the planning and the navigation of the course. For example, as the advance plan foresaw the mushers crossing the road between Mary River and Milne, participants from Pond Inlet, the community closest to Milne Inlet, volunteered to assist the lead navigator with his job. The schedule of travel was roughly determined so that mushers would travel a distance of 50 miles every day. This did not happen however, because the distances travelled each day depended on a number of factors; the weather, ground terrain and mechanical issues with snow mobiles. It is truly a test of endurance – both mental and physical – that most people can barely imagine.
Challenges along the way
This year's Quest threw a number of challenges in the way of the mushers. Unfortunately, Maren Vesutla of Igloolik ran into a spot of trouble and had to drop out of the race. Following this, Nunavut Quest fell behind schedule due to the weather. At this point in the race, around April 29, one of the support snowmobiles broke down and had to be towed the rest of the way to Pond Inlet. Later in the week, the group went through whiteout conditions. Such challenges are part of the Quest, and remind all of us of the challenges Inuit would have faced in similar conditions but with less modern conveniences.
On April 30, the Nunavut Quest dog teams arrived in Milne Inlet and crossed on sea ice near Baffinland's port site. The Mary River site managers made sure that safety was the top priority. The road was cleared and truck drivers were advised well ahead of time that the dog sleds were coming. It was snowing at the time the race crossed, and observers kept a good distance so as not to distract the dogs.
The finish
On Saturday, May 3, the eight remaining teams crossed the finish line in Pond Inlet, nine days after leaving Igloolik, greeted and held aloft by the community. First prize went to Andy Attagutalukutuk of Igloolik, with a total time of 39 hours and 54 minutes, marking his third win in a row. Peter Siakuluk of Hall Beach made the distance in 44 hours and 15 minutes. And Michael Inuarak of Pond Inlet won third place with a time of 46 hours and 36 minutes. Baffinland's VP of Corporate Affairs, Greg Missal, was in Pond Inlet for the exciting end of the race. "The community of Pond warmly welcomed all the racers and did a super job of hosting the closing ceremonies, Baffinland is pleased to be one of the sponsors and support Nunavut Quest. We extend our congratulations to all of the participants." For more coverage go to CBC North http://www.cbc.ca/news/canada/north/andy-attagutalukutuk-wins-400km-nunavut-quest-dog-race-1.2632488