Port to Port: ArcelorMittal sheet piles to build dock for Baffinland's Milne Port
July 9, 2014
Specialty ArcelorMittal sheet piles, produced in the Belval and Differdange mills in Luxembourg, are making their way by ship to the high arctic. There, they are to be used to construct a sheet pile dock at Milne Inlet, which will serve as the port for Baffinland's Mary River project.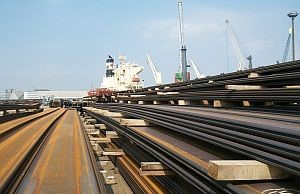 Straight web sheet piles AS 500 and HP bearing piles, produced in the Belval and Differdange mills in Luxembourg, as well as special piles fabricated by a specialised local subcontractor, are making their way from Antwerp, Belgium, to Nunavut, Canada, to form part of the Milne dock. The dock will support a two-tower radial ship loader and reclaim conveyor system that will load vessels with iron ore from Baffinland's Mary River deposit. Antwerp is the headquarters of ArcelorMittal logistics, and Baffinland felt that ArcelorMittal logistics was best suited to provide marine transportation services to deliver the sheet piles to North America.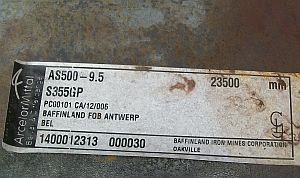 Baffinland (owned 50% by ArcelorMittal), was given the go ahead by the Canadian Federal Government on April 29 for the early revenue phase amendment to the Mary River project involving the seasonal shipping of 3.5 million tonnes of iron ore from Milne Inlet. Construction of the site commenced in Q2 of 2013 with mining of iron ore scheduled to begin as early as Q3 2014, and first shipment of iron ore expected during the open water season of 2015.
Baffinland's procurement department worked diligently to coordinate the transfer of technical information from the ore dock engineers to ArcelorMittal and vice versa. This included addressing RFI (requests for information) from both sides, providing feedback regarding ArcelorMittal's welding procedures and quality inspection plans, and monitoring the order to ensure delivery deadlines were met.
With its innovative and unrivaled product range, ArcelorMittal is the world leader in design and production of sheet piles, which have been recognised within the company as a 'franchise' product.
"Baffinland and ArcelorMittal had an excellent working relationship throughout the entire process. We felt very confident with ArcelorMittal with regards to the quality of products and the ability to meet the tight deadlines on this project," says Tom Paddon, Baffinland's President and CEO. "Our purchasing team also did a great job, providing feedback regarding ArcelorMittal's welding procedures and quality inspection plans, and monitoring the order to ensure delivery deadlines were met."
"Given the quality and quantity of iron ore from the Mary River deposit, and the relationship between Baffinland and ArcelorMittal," Tom says, "it's not that hard to believe that ArcelorMittal products could be made from Baffinland iron ore in the future."