"Project Naming" photos bring traditional life to Baffinland's site camps
September 17, 2014
Baffinland Iron Mines selected 25 "Project Naming" photographs from Library and Archives Canada's (LAC) extensive collection to brighten up the hallways of the camps at its Mary River mine site camp and Milne Inlet port site camp. Not only do the images display traditional activities, mostly in the communities in which many of Baffinland's current employees reside, but they are already proving successful at helping to identify the people in the pictures – one of the goals of Project Naming.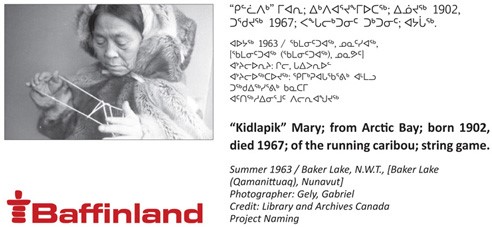 Baffinland Iron Mines is a Canadian mining company focused on the development and operation of the Mary River property, located in the Qikiqtani Region of Nunavut on Baffin Island. As the company was nearing the construction phase of the Mary River Project, a proposal was made to liven up the corridors of the new camp accommodations in the form of pictures of traditional Inuit activities so as to make local
people feel comfortable and more at home. The search for photos started and ended at LAC, whose collections depicting the people of Canada's Arctic consist of thousands of photographs dating from the late 1800s to the mid-20th century. 25 photographs were carefully chosen based on activity and area. These were then enlarged, reprinted, framed and installed on the walls at both Mary River and Milne Inlet.
Connecting with the past through Project Naming
Hundreds of these images have been digitized as part of Project Naming, a photo identification and community engagement project involving Inuit. Very few Inuit in these images were identified at the time these photographs were taken. Prior to digitization, Inuit never had a chance to assist in identifying these individuals because the collections were located far from their communities and there was no means of easily transporting the photographs.
Project Naming began as a collaborative effort between Nunavut Sivuniksavut, which offers a special college program based in Ottawa, serving Inuit youth from Nunavut; Nunavut's Department of Culture, Languages, Elders and Youth (CLEY); and LAC. It is an ongoing initiative, which enables Nunavut youth to connect with Elders and to better understand their past. It also helps to bridge the cultural differences and geographical distances between Nunavut and the more southern parts of Canada. Reactions to the exhibition have been positive and the feedback quick. One Baffinland employee emailed her friend who works on Project Naming at LAC. They in turn were delighted to hear that not only were people enjoying the images, but that they were also identifying the people in them. One Baffinland employee, Eva Geetah, was brought to tears when she recognized her grandfather, Eetooloopak in one of the images. And indeed, the resemblance is striking.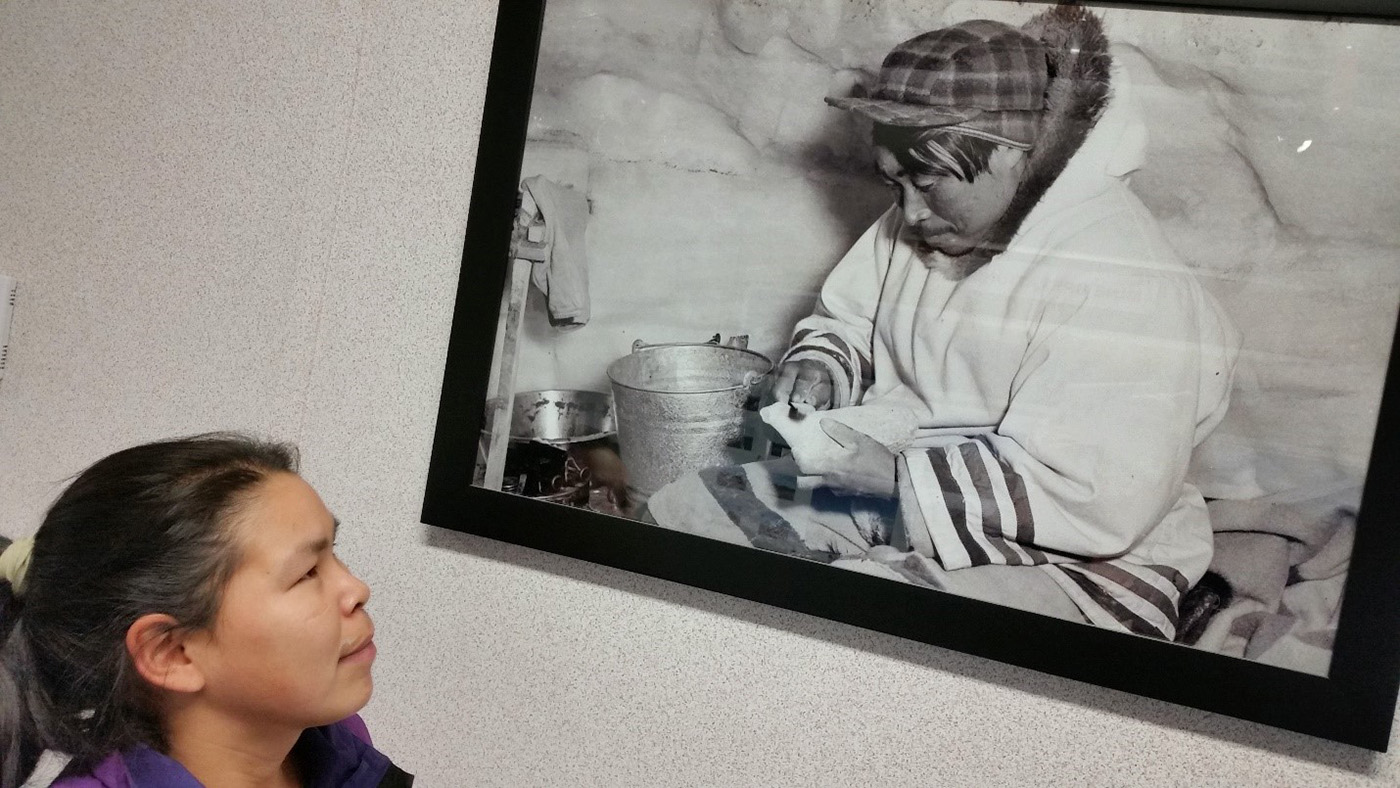 Eva Geetah looking at a *picture in the Mary River accommodations corridor, who she discovered is her late grandfather, Eetooloopak
The naming of these still anonymous people has become very time sensitive. Today's Elders may be the last people able to identify these individuals from the past, whose names might otherwise remain lost forever.
About Baffinland Iron Mines Baffinland Iron Mines is a Canadian mining company focused on the development and operation of the Mary River property, located in the Qikiqtani Region of Nunavut on Baffin Island. Baffinland is jointly held by ArcelorMittal, the world's leading integrated steel and mining company, and Nunavut Iron Ore, Inc., a company in The Energy and Minerals Group.
Further inquiries can be directed to:
Greg Missal Vice President,
Corporate Affairs Baffinland Iron Mines
Phone: (416) 814-3164
Cell: (905) 399-7070
www.baffinland.com
Please note: use of the two Project Naming photos depicted, both at Baffinland's camps and in this article, is restricted. Reproduction on social media or in follow-up articles is not allowed without permission from the Project Naming.