QIA Welcomes Proposals for the Ilagiiktunut Fund, an element of the Mary River Project IIBA, for Fall 2015-16
June 26, 2015
The lagiiktunut Fund is an element of the Mary River Project Inuit Impact and Benefit Agreement (IIBA). It has been established by the joint contributions of Baffinland Iron Mine Corporation (BIMC) and the Qikiqtani Inuit Association. The Fund itself is administered by QIA and proposals are to be directed to that organization.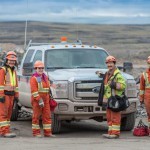 The lagiiktunut Fund was established because in recognition of the need to make important improvements in community capacity particularly in this period of growth and change brought on by natural resource developments within the Qikiqtaaluk Region of Nunavut. The Ilagiiktunut Fund is one of the tools that we will use to enable such advances within communities impacted by the Mary River Project.
The total amount of funding available for Fall 2015-16 projects that support the objectives of the Ilagiiktunut Fund is $750,000.
How to Apply
Please review application guidelines before preparing a proposal, and be sure to download an Application Package from www.qia.ca.