Baffinland's Phase 2 Proposal to Proceed to Review with Nunavut Impact Review Board
July 17, 2015
Baffinland Iron Mines notes that on July 14, 2015, the Minister of Aboriginal Affairs and Northern Development Canada granted an exemption to enable Baffinland's Phase 2 proposal to proceed to the environmental assessment stage with the Nunavut Impact Review Board (NIRB).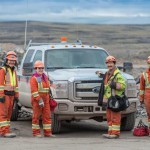 The NIRB process will provide the opportunity for all stakeholders and regulators to hear the company's plans, to consider the project's impacts as well as its benefits, and to collaborate on mitigations that can address Inuit concerns. Baffinland CEO Tom Paddon said, "The Project approval process in Nunavut is demanding and thorough, as it should be. Baffinland's continuing wish is that the Project be given a fair and timely hearing. Proceeding to the environmental assessment process will ensure that occurs."
The Mary River Project is currently delivering significant employment and commercial benefits to Nunavummiut. Phase 2 seeks to solidify and strengthen the initial investment in the region. From the outset it has been clear that the sustainability of the Mary River Project is dependent on the Project growing to a level that sees greater mining, transportation and shipment of ore to its customers on a reliable and consistent basis.
Baffinland will continue to work with the Nunavut Impact Review Board, the QIA (Qikiqtani Inuit Association), the Hamlet of Pond Inlet and other North Baffin Communities, as well as the Government of Nunavut and all other agencies and stakeholders to ensure that Baffinland's Phase 2 proposal is successful, and so that benefits to the North Baffin region and the rest of Canada can continue.
Further inquiries can be directed to:
Greg Missal, Vice President, Corporate Affairs
Baffinland Iron Mines
Phone: (416) 814-3164
Cell: (905) 399-7070
www.baffinland.com