Baffinland's Real Fire Training at Milne and Mary River
March 26, 2015
Baffinland's Emergency Response Team (ERT) held two successful Real Fire training sessions in late February in sub-zero temperatures for its mostly volunteer force of firefighters. Baffinland considers Safety First, Always, and these trainings are extremely important, particularly in such a remote area that relies on the leadership and skills of its own team in the event of an emergency.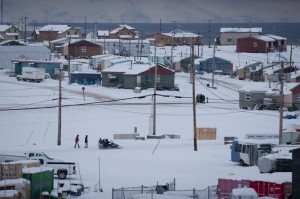 On Friday, February 27, 2015, Baffinland conducted a Real Fire training at its Milne Port at 7 am in -42 degree weather, although fortunately, there was no wind. It is important to note that many people on Baffinland's Emergency Response Team are volunteer and still have their own jobs – so if they are training they either have to have permission from their departments or they do this training on their own time. One of the reasons the training at Milne was done so early in the morning was to accommodate the night shift who did not want to miss out on a real fire training.
"This training is something we like to do once a quarter," says Dale Wales, ERT Trainer at Milne. "One reason I like to do this training is that when you are working up here and the temperatures are really low, Real Fire training allows you to get outside and still be warm." In these temperatures the team has to be very sharp and keep a close eye on each other. "Even the exercise of getting water out of a fire hose and not freezing is a valuable training in itself. It also teaches everyone to keep an eye on each other for signs of frostbite, and to learn that when toes and fingers hurt, it's time to get inside."
The next day the training was repeated at Mary River. There have been four courses in the first quarter of 2015 and there will be another set of trainings in the 4th quarter of this year.
"We are very proud of our Mine Rescue Team and will continue to grow their skills in this challenging environment," says Glen Hein, Baffinland's Safety Manager. "Even though most of our team members are voluntary, they all take their duties and responsibilities very seriously and put Safety First, Always because they know that in the event of an emergency their colleagues rely on them. It is an important and demanding task but being a part of this team is also an excellent opportunity for our workers to do something rewarding and often take these valuable skills back to their communities as volunteer fire department members."
Emergency Response Team members who participated in March training:
Milne:
Dale Wales, ET Trainer
Nuyalea Kipanik, Site Services Supervisor
Deon Pope, Port and Logistics Superintendent
Jamie McMath, Kitchen Supervisor
Ola Arnaquq, Human Resources Clerk
Levi Jr. Qaanaaq (QIL)
Matt Johnson (trains on his own time)
Adam Scott (Scarlett Security)
Brian Larson (observer)
Andre Dee
Mary River
Dale Wales, ET Trainer
Edward Laskowski, Maintainer 1
Steve Jangkert, Health Safety Environmental Advisor or HSE Advisor
Arthur Pringle, maintainer 2
Ed Gordon, Maintainer 2
Jerry Hodnet, Maintainer 2
Russel Andrews, Maintainer 2