Building Safety Skills for Challenging Conditions – High Angle Rescue Training with the Mine Rescue Team
September 2, 2015
Baffinland's Mine Rescue Team has to be well trained and at the ready for all manner of emergency situations. This is particularly essential when working in an area such as one of the world's most northern mines and its port. With the shiploader at Baffinland's Port Site Complex newly installed and weeks before the very first load of iron was shipped out in July, 2015, Baffinland's Mine Rescue Team (MRT) underwent an intense advanced training focused on high angle rescue scenarios.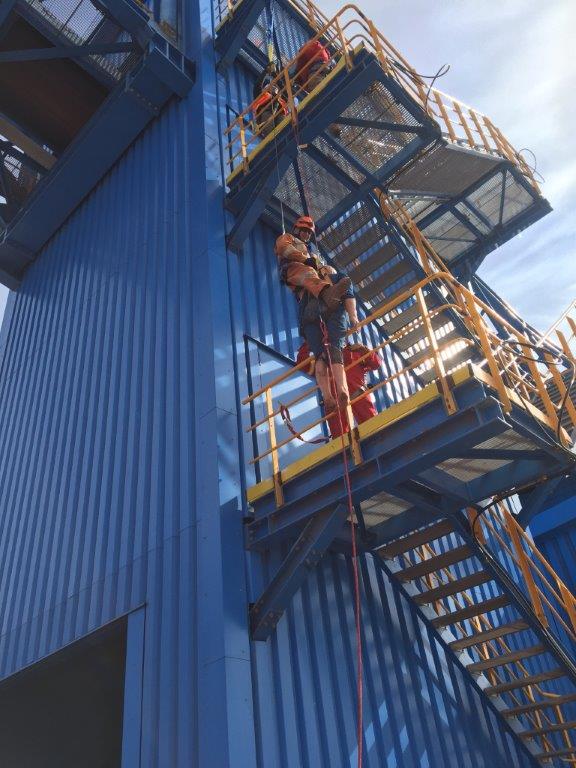 At Baffinland, employee safety comes first, always. This is why the company has committed to a comprehensive health and safety program. One component of this program is the ability to safely manage emergency and crisis situations, should they arise. In July 2015, Mine Rescue Team (MRT) members conducted a rigorous training session for rescuing people at heights.
Two consultants came up to Baffin Island in July 2015 to provide high angle rescue training for the ship loader and other high angle rescue scenarios to MRT members at the Port site. This training is applicable to all rescues.
Training included:
Rescuing a suspended worker,
lowering a suspended worker,
peer rescue for site services personnel, and
the mechanics of injury and injuries that can be sustained from the use of fall arrest.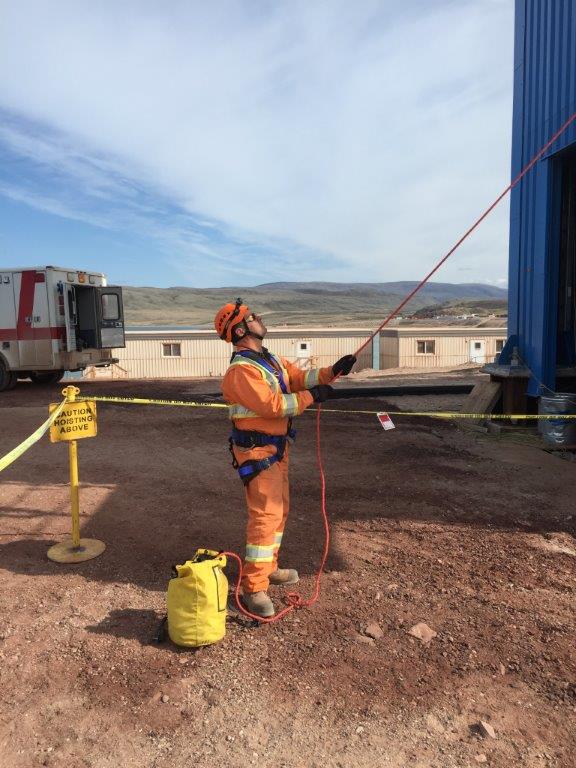 "At Baffinland we are committed to developing the skills and competencies of our Mine Rescue Team to response to all types of emergency situations," says Glen Hein, Baffinland's Health and Safety Manager.
"With the construction of the shiploader at our Port Site Complex, Baffinland recognized the need for further training and equipment to provide prompt rescue of personnel from the shiploader….a structure over 50 metres in height," explains Glen Hein, Bafifnland's Health and Safety Manager.
"We not only completed this training for our MRT and Site Services employees, but arranged train-the-trainer to allow future in house training for high angle rescue. With this training complete, Baffinland loaded iron ore into the first ship, confident in the skills of our MRT to respond should an emergency occur – a reminder of our motto – Safety First, Always!"