Health and Safety Day at Baffinland's Mine Site and Port Site – "Stop, Think and Act Safely"
April 28, 2015
Baffinland kicked of its 2015 annual Health and Safety Day activities early in the morning of April 28 with a presentation to the incoming nightshift and two early morning day shifts as well as a video provided by ArcelorMittal, 50% owner of Baffinland. This year's theme is "Stop, Think and Act Safely – Together for Safety" with a health focus on respiratory health, stress management and medical emergencies. A second Health and Safety Day will be held on April 30, 2015, in the corporate office in Oakville, Ontario, with Courageous Leadership training as a focus.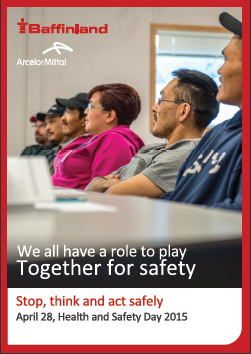 Baffinland's 2015 Health and Safety Day started with a series of 3 presentations, including a review of Baffinland's 2014 safety performance, given by Tony Noseworthy, Baffinland's Health and Safety Superintendent. Held in the kitchen of the Mine Site Complex, a main focus of the presentation was Job Safety Analysis; the task of completing an analysis of a task with your crew and supervisor.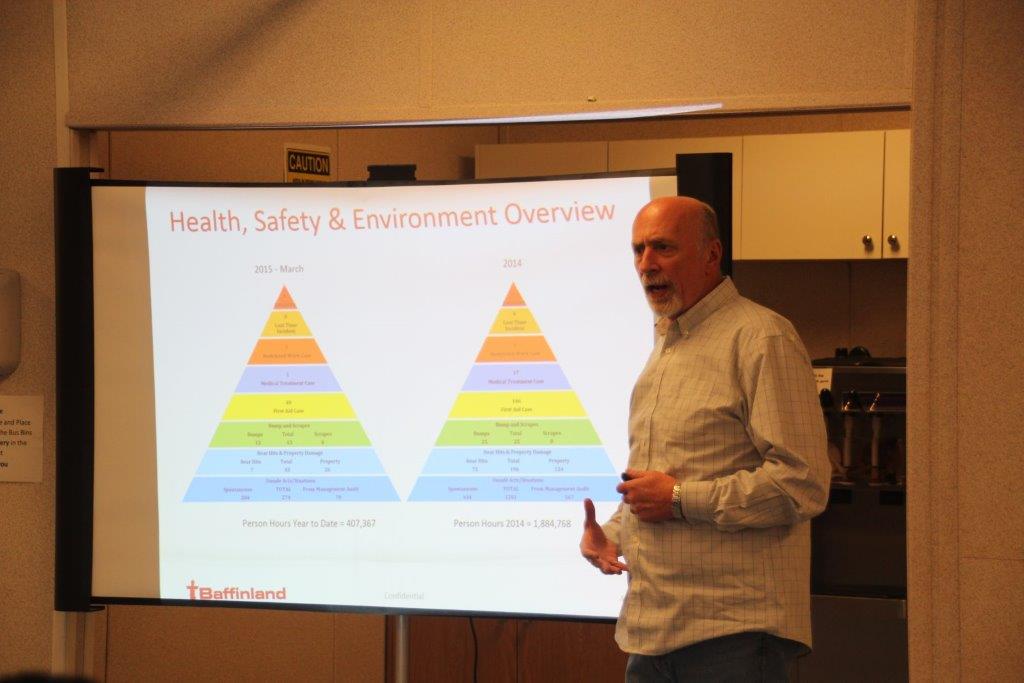 In the days leading up to Health and Safety Day, members of different departments underwent an intensive training course on accident investigation. Standard First Aid training courses were also offered this week to various departments at the Mine Site and the Port Site Complexes. On April 26, the Health and Safety Day presentation was given by Glen Hein, Baffinland's Manager for Health and Safety, to contactors who work at site.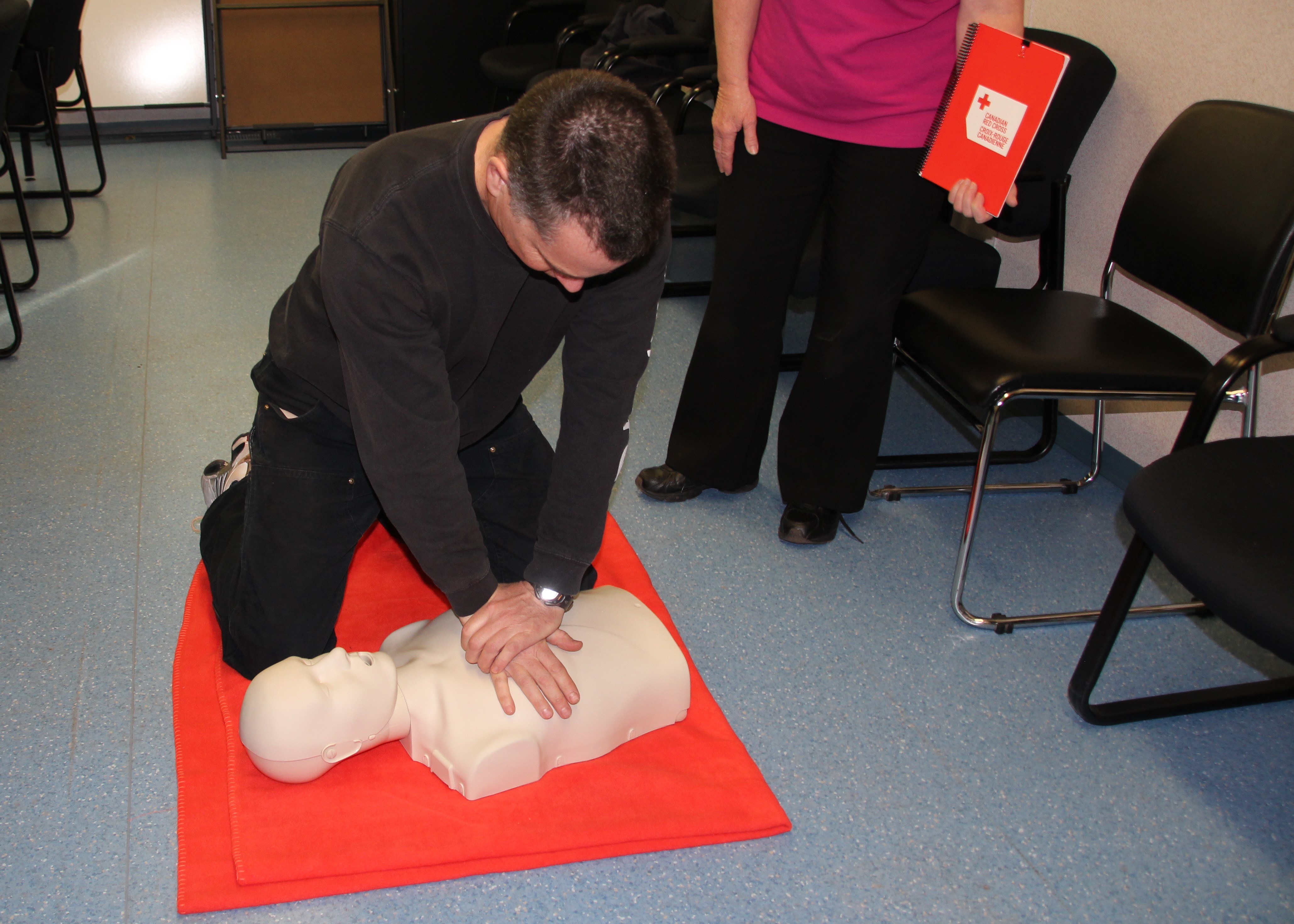 Stephen Tilley, Geological Technician practicing CPR
"Let's make this a day to celebrate what we did right," Tony told the groups. "Let's highlight the successes." Tony singled out one group, Site Services, as an example as they have enormously improved their safety performance by diligently reporting incidences, studying the patterns of recurrences and learning from those experiences; the main message to be taken away from the day.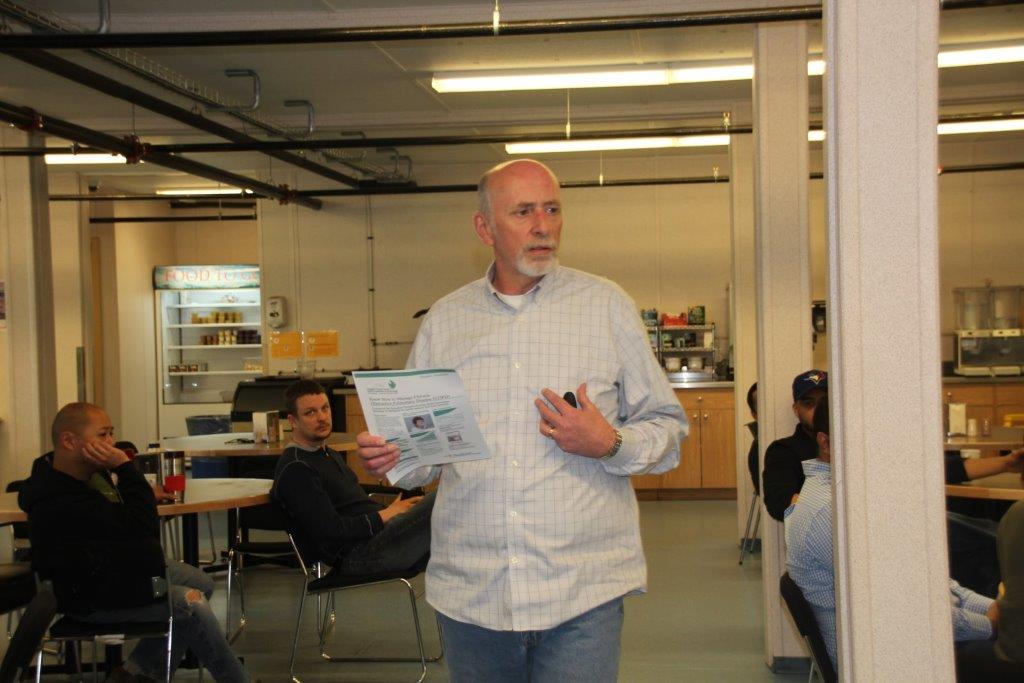 Each presentation was followed by a viewing of ArcelorMittal's Health and Safety Day which commenced with an annual message from ArcelorMittal President and CEO, Lakshmi Mittal as well as first hand "Near Miss" accounts by mining and steel workers around the globe.
National Day of Mourning April 28
Perhaps the most powerful part of these early Health and Safety Day presentations was the observation of a moment of silence to remember those individuals who lost their lives while on the job, as April 28th is also the National Day of Mourning. Although Baffinland has managed to attain a perfect safety record with zero lost time incidents and zero fatalities thus far, many of the people who work for Baffinland have a long experience in the mining and steel (or even other) industries, where they have witnessed or suffered the heartbreak of losing a colleague.
"We are all very busy here at site and that is only going to increase as we get closer to our first shipment of iron ore this year during open water season," says Michael Anderson, VP of Operations who is currently at site. "The message in today's safety video, "I rely on you. You rely on me," is now more important than ever for us. We are like a family at site and we have a very good safety culture at Baffinland. We want to develop and improve it as we move into full operations."
Baffinland honors this day with ArcelorMittal colleagues around the world although it is safe to say, that at 72 degrees north, the Mary River mine site is the most northern Health and Safety Day. But where ever you are located, remember, "Stop, Think and Act Safely – Together for Safety".