Introducing Jayko Simonie, One of Baffinland's 2 On-Site Elders
August 1, 2015
Baffinland currently has two on-site elders who can help counsel Inuit employees while they grow accustomed to working in a fly-in fly-out remote camp like Mary River (Mine Site Complex) or Milne Inlet (Port Site Complex). Meet one of our elders, Jayko Simonie, who says he would like to, "take traditional Inuit into today's way of living."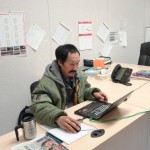 Baffinland's Mary River mine operates on a fly-in/fly-out basis which is significantly different from one where employees go home at the end of each workday. Most Baffinland employees work a rotation where they work for 2 weeks living at the site and then fly-home for 2 weeks off.
On top of the available counselling already provided by our Human Resources team, Baffinland offers two on-site elders – one male and one female – to help counsel Inuit employees. One of these is Elder Jayko Simonie.
Jayko grew up in Clyde River but currently lives in Hall Beach. He has held positions that have served to help the community and people. For example, Jayko has been an Adult Educator and Community Improvement Coordinator. He was also involved in the beginning of the Justice Committee in Hall Beach.
When he was asked why working for Baffinland interested him, Jayko's response was that he wants to see change for Inuit and be a part of the support network to help them develop. "There are so many people giving up in our local communities," he says. "Baffinland can provide great opportunity for Inuit to get good jobs and through education and training."
Jayko said he wants to "take traditional Inuit into today's way of living." What message would Jayko like to get across to those younger than him? He answers by explaining what an elder once told him, "If there is something you think you cannot do, try it first." That is the message he wants people to understand. He says that his experience at Baffinland so far has been very positive and he appreciates the openness he sees here.