Mary River IIBA contributes to Baffin Community Development through Ilagiiktunut Fund
February 6, 2015
On February 4, 2015, 11 recipients were announced for the first round of contributions from the Ilagiiktunut Fund which derives from the Mary River Project's Inuit Impact Benefit Agreement. Established by the joint contributions of both Baffinland and the QIA (Qikiqtani Inuit Association), the fund was designed to enable Inuit of North Baffin to address community priorities.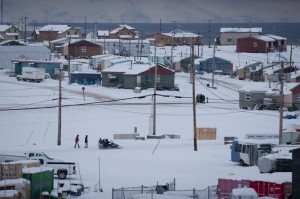 Pond Inlet
The Ilagiiktunut Fund will help to improve the quality of lives in the communities closest to Baffinland's Mary River mine by supporting such activities as; community projects, youth and elder programs, family and community activities and educational incentives, to name a few.
Nunavut Independent Television Network, the Embrace Life Council and Ilisaqsivik received the largest shares of the $750,000 total, with each organization receiving over $100,000.
Eight other recipients were also announced in a press release from the QIA on February 4, which, from highest to lowest funds received, are: Recreation Parks Association Nunavut; Hunters and Trappers Association in Hall Beach; Hamlet of Pond Inlet; Artcirq; Qarjuk Elders; Nassivik High School; Pond Inlet Basketball Club; and Qisilirniq. An application is currently under review for the final $18,000 left in the fund, the release said.
Read the complete Qikiqtani Inuit Association press release
ilagiiktunut_fund_en
Read article in the Nunatsiaq News
Read Baffinland's article Announcement of Ilagiiktunut Fund