Now Available: Latest 2022 Baffinland IIBA Newsletter
IQALUIT, NU, January 23, 2023 – Baffinland Iron Mines Corporation ("Baffinland" or the "Company") is pleased to announce the publication of the latest edition of our bi-annual IIBA Newsletter. The panoramic snapshot of Baffinland's operations at the Mary River Mine, Milne Inlet and in the communities, covering the period from April through September 2022.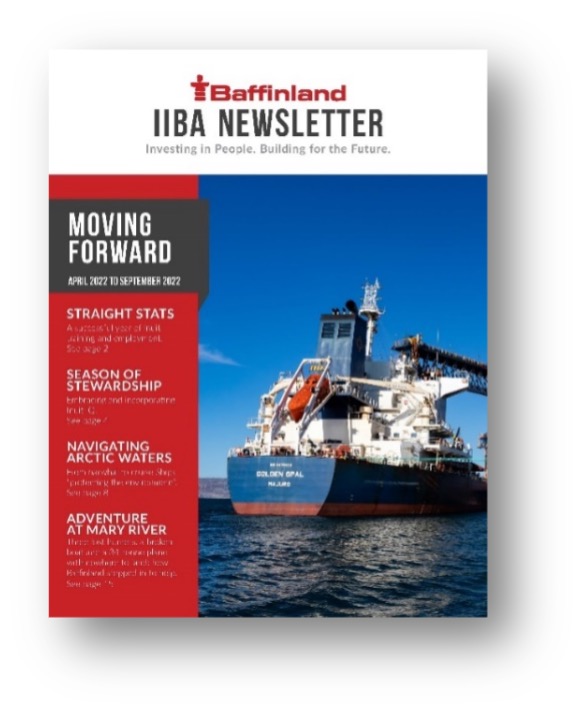 Baffinland operates a high-grade iron ore mine located on Baffin Island, Nunavut, Canada. The Mary River Mine produces some of the highest grade of direct shipping iron ores in the world. Baffinland is committed to operating in an environmentally and socially responsible manner that benefits the land, Inuit communities of North Baffin and all stakeholders.
In this edition of the IIBA Newsletter, Baffinland introduces its new Inuit Knowledge Holders and Community Relations Guides, hired for their extensive traditional knowledge and experience, which will enhance Baffinland's delivery of relevant and culturally appropriate services in each community.
Also captured are Baffinland's latest employment and training statistics, including the $8.2 million in wages paid to Inuit employees during this 6-month period, plus Baffinland's industry leading adaptive Marine & Environmental monitoring and mitigation programs.
It also features a fascinating story about a successful mission with the Canadian Armed Forces Search & Rescue team. And it shares an insightful note from Baffinland's CEO, Brian Penney, as well as some details of the many cultural programs, the latest from the community tours, plus much more.
Hard copies of the latest IIBA Newsletter, in both English and Inuktitut, will be distributed at site and in the communities. It can also be viewed, in both languages, on our website.
https://www.baffinland.com/media-centre/newsletters/
For more information or media requests:
Peter Akman | Head of Stakeholder Relations & Communications
C: +1 289 834 0744
E: media@Baffinland.com
2275 Upper Middle Road East, Suite 300, Oakville, Ontario, Canada, L6H 0C3